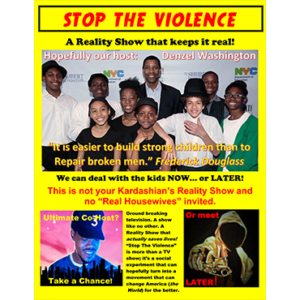 Logline:
Gangland meets The Apprentice
Writer / Producer: Steve Wilburn
Production Company / Distributor: Windy City Images
Plot Summary:
"To inspire creativity, to build dreams, to let you be, you."   
                –   Chance The Rapper
We are going to offer an alternative to the kids in the hood to gangbanging. The reality show will offer a guide to troubled kids everywhere to find the road to a safe, prosperous and meaningful life; right in their own neighborhood!
We will take troubled youth from the most dangerous of Chicago's gang areas (boys and girls) and then mix up the rivals onto four different teams. These once, potential mortal enemies will now have to learn how to work together in challenges of self and neighborhood improvement.
Pitch Decks available for qualified investors.