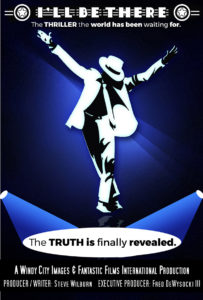 Logline:
When the Goldstein's take their son's new best friend Macauly Culkin on their quiet little get-away it turns into a fun-filled, escapist dream when Michael Jackson joins the vacation for the TRIP of a lifetime!
Writer / Producer: Steve Wilburn
Production Company: Windy City Images
Plot Summary:
Sizzle reel for the documentary:
Our Vacation With MJ – COMING SOON from Steve Wilburn on Vimeo.
No other modern-day star has been under more scrutiny and speculation than Michael Jackson. For the first time ever, a film will expose the "real" Michael Jackson, the "Man in the Mirror." See how the biggest star on the planet dealt with his celebrity and what he did behind closed doors. 
In 1991, at the height of Michael Jackson's positive popularity, under tremendous pressure working at Sony Studios developing a new album, he suddenly dropped everything and invited himself on to someone else's private family vacation in Bermuda. MJ ditched his entourage to go with his newfound friend Macaulay Culkin who was already on a vacation with his friend, Brock Goldstein. 
The Goldsteins were shocked, but willing and unsuspecting on what was to follow. A quiet little get-away turned into an extended fun filled, escapist dream of an adventure. Money was no object and things got wild when the richest star of his day decided to party; five star hotels, a bottomless shopping spree at a toy store, stomach churning speed boat ride with Ross Perot, water gun fights, pie fights, drive-by water gun attacks, stink bombs, mini bike rides, ocean swims, and a private jet flight to Orlando for more fun, and memories for the top of the scrap book. 
This escapist trip was underlined by MJ's biggest fans, Brock and Mack who were like brothers that is until their sibling rivalry started to turn the dream into a nightmare. 
Will the unrelenting, insidious attacks and plotting of the paparazzi ruin the vacation or worse ruin Michael Jackson, Brock, and Mack? 
The impromptu vacation was possibly Michael Jackson's last, fully free, innocent moments to do as he pleased before his life started to close in on him with mind numbing accusations of molestation and criticism for his off the wall behavior. 
Will this be MJ's last, guilt free hurrah? Find out the truth about Michael Jackson from people who know in this true-story of the King of Pop.