Still Standing
A Proposal for a longer strand Documentary About Gator
This documentary portrays the story of CRAIG "GATOR" BODZIANOWSKI who, in the opinion of many aficionados, may well be the toughest man ever to step into a boxing ring.
Gator is raised the old-fashioned way by his "salt of the earth" father, PAT, "do the right thing and don't take no crap from no one". Gator's childhood is riddled with fights. Pat once said: "I can live with the suspensions from school, but don't ever let me hear about you running from a fight or there'll be an even bigger ass "whooping" when you get home."
As a young adult, Gator takes this "never quit" attitude into the amateur boxing ring. His trainer, NATE BOLDEN, a boxing great from the fifties, helps refine Gator's brawling style.
As an amateur boxer, Gator compiles an amazing winning record comprised of 64 wins and 5 losses, three CYO Championships, and two Golden Glove Championships. Gator's only losses are to champions in championship fights, all of whom went on to become professional champions.
After turning pro, Gator's winning record continues to grow; unfortunately, so does his ego! With his newfound fame, Gator's workouts become shorter, while his nightlife activities become longer and increase in frequency. On one fateful night, he takes his girlfriend on a "last ride" before selling his motorcyle. While making a u-turn, a senior citizen collides with his motorcyle. The accident mangles Gator's lower right leg.
One week and 12 surgeries later, Gator has a choice to make. The doctors suggest that multiple surgeries over the next year may allow him to save his leg; unfortunately, he will be crippled and require the use of a cane for the rest of his life. Alternatively, his doctors can amputate the leg now, and he may expect to regain up to 70% usage with a prosthesis. Eventually, he won't require a cane.
Gator says: "Adios! Cut it off." You see, he knows something the doctors aren't aware of: if a regular patient can regain up to 70% usage of the leg with a prosthesis, Gator knows he can regain at least 90%.
Gator's friends and family are devastated between his personal loss and what they assume is a career ending disability. Gator cheers them up, letting them know he'll be back in the boxing ring in no time. His friends, his manager, his coach, and his family all humor him, encouraging him to work out, hoping to keep him strong and optimistic.
Gator surrenders his wild ways and becomes a "man on a mission" with tunnel-vision-focus. He exceeds everyone's expectations, making miraculous progress, proving he has what it takes to get back into the pros. His only problem is convincing the Boxing Commission, the Athletic Board, and a hoard of critics that he deserves to be back in the ring.
The long strand documentary, "Still Standing", tells the incredible tale of Gator's unwavering quest for a title shot. It culminates in his gallant challenge for the WBA Cruiserweight Championship in 1990.
Throughout Gator's lengthy amateur and professional career, he is unstoppable. In spite of a devastating injury, he finishes every fight he ever competes in.
This documentary makes the argument that Gator is indeed the toughest man ever to stop into the boxing ring!
---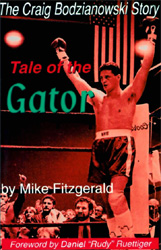 Gator's autobiography, "Tale of the Gator: The Story of Craig Bodzianowski, the Boxer Who Wouldn't Stay Down" by Mike Fitzgerald, is available through Amazon.com.


FILM VIDEO(S)
Click a link below to watch the video. A pop up window will open.
NOTE: If you have a pop up blocker (or the window does not open), click and hold down the "Ctrl" key (Option on Mac) as you click the link.