On The Ropes
The incredible true story of Chicago southsider, CRAIG "GATOR" BODZIANOWSKI, the "up-and-coming" cruiserweight boxer who, after losing part of one leg in a motorcycle accident, is told his boxing career is over. Gator makes one of the greatest professional sports comebacks ever, culminating in a WBA World Championship Fight.
As an amateur, Gator takes the "never quit" attitude inherited from his father into the boxing ring, and compiles an amazing record. Soon he turns pro and resolves to become the cruiserweight champion of the world. He meets and falls in love with SHEILA, a beautiful girl athletic enough to keep pace with him. As Gator's winning record grows, so does his ego. Once Sheila realizes he's cheating on her, she dumps him. Gator's father, coach, and his brother BILLY, warn him to straighten out his wild ways or he may suffer his first knockout. However, it is not until after Billy's accidental death that Gator decides to refocus and rededicate himself to winning the title.
One fateful night, an horrific motorcycle accident changes everything. After multiple surgeries, Gator's lower right leg has to be amputated. The doctors say his boxing career is over, but he may be able to jog again with a prosthetic leg. All Gator's friends, trainers, and family are devastated. Gator has faith in something no one else realizes: if he can jog, he can run; and if he can run, he can box.
Through harrowing pain, dedication and determined focus, Gator makes a remarkable recovery. Noticing the changes, Sheila returns to his life to support him. Defying all critics, Gator gets back in the ring. After a multitude of setbacks, he makes his professional comeback and wins. Gator's critics charge that the fight was fixed, and demand that his license be revoked. Gator silences them all, taking on all comers and compiling an impressive winning record. Fighting against boxing commissions, critics, other boxers, and flawed perceptions, Gator perseveres and amazes the world with his incredible comeback, culminating in an extraordinary world title fight.
Gator shows the world how to fight with your heart! The world shows Gator that the most important things in life are love and family.
---
ON THE ROPES was a quarter-finalist in the Maui Screenwriting Competition, the Empire Screenplay Contest, and the Illinois Screenwriting Contest. It was a finalist at the Script Connection, and semifinalist in the Nicholl Fellowships. Its humor and raw power provide a great vehicle for an up-and-coming star.
---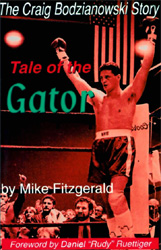 Gator's autobiography, "Tale of the Gator: The Story of Craig Bodzianowski, the Boxer Who Wouldn't Stay Down" by Mike Fitzgerald, is available through Amazon.com.
FILM VIDEO(S)
Click a link below to watch the video. A pop up window will open.
NOTE: If you have a pop up blocker (or the window does not open), click and hold down the "Ctrl" key (Option on Mac) as you click the link.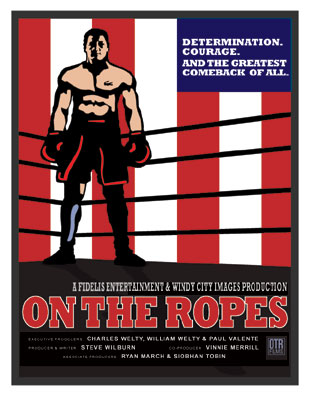 Additional Pictures

:


(Click picture to view larger version)